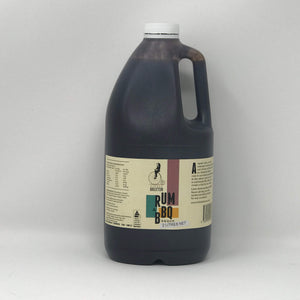 Our 2L Rum and BBQ sauce speaks for itself! BBQ flavour, a hit of Rum and a little heat on the back end!  With this sauce being the equivalent of 8 jars you will have enough marinade and sauce for the whole family!
What is Rum BBQ Sauce?
Real Rum mixed with a smoky BBQ flavour and a hint of that Jamaican Jerk heat at the end! Lots of rich flavour and is great as a marinade or dipping sauce.  Our Rum & BBQ sauce was awarded a silver medalist at the Australian Food awards!
What can I use it for?
Little Brixton Rum BBQ Sauce is great as a sauce on steak, burgers or even vegetables. Alternatively use it as a marinade to make pulled pork, sticky wings, or as a sweet sticky sauce on ribs.  Check out our recipes for more inspiration.
Ingredients
Tomato Sauce, Brown Sugar, Lime Juice, Non-Gluten Soy Sauce, Rum (5.6%),Garlic, Ginger, Pimento, Pepper, Chilli 
What is the Rum BBQ Sauce story?
August 1969 Atlantic Road, a crisp autumn evening coming out of one of the arches, rum in one hand and all- spice in the other, just in time to marinade the ribs and a dip for the chips!
What else do I need to know?
Other products in the 2L range include:
Little Brixton Jerk Marinade
Little Brixton Hot Jerk Marinade
Little Brixton Jerk Mustard