There is just something about Jamaican food
The flavours, the spices the culinary mixture of cooking techniques, it resonates with your soul and your palate.
You are sure to fall in love with Jamaican food as much as me!
My Story
Testimonials
Unique tastes of the Caribbean right here in Melb. Awesome product

Matt
Love the whole range!! They pack an absolute flavour punch that excites me everytime I cook with them!

Booma Bromage
Probably my favourite sauce for everything!

The Meat Eater
My life falls apart when the mustard runs out. Best product ever, so tasty and original!! Quality ingredients and easy to order online or purchase at nearby shops

Brooke
It doesn't surprise me to hear a punter actually loved these marinades so much he drank it straight from the bottle. Good job guys! Great product!

Linda
God dam these are some good sauces and marinades! I went out on a limb and bought a gift pack for my dad on fathers day, now it's my go to gift for any foodie. So tasty and easy to use, I now cook with the marinade and mustard myself at home. The perfect solution to a simple and easy mid week dinner that packs a punch.

Kate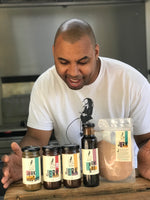 Nothing brings people together like good food.
I love getting the family together for a family feast! Chances are your favourite food is connected to a person, or a place. Good food never fails to bring people together.
🔥 Grill on the BBQ like a pro
🔥 Entertain friends easily
🔥 Oven cook delicious meals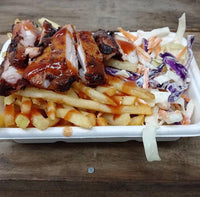 What will you create?
Rum BBQ Ribs? Sticky Wings? Traditional Jerk Chicken? Burgers? Roast Dinner?
We would love to see your successful dinner night made easy! #littlebrixton
Shop Jamaican Food Products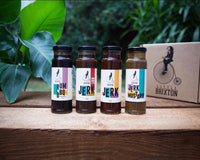 Good Food + Good People = Good Times!
👊🏾 With just a little help from the Little Brixton range of easy to use, delicious marinades, sauces and rubs!