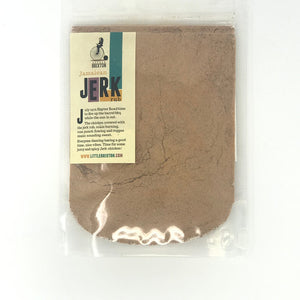 You choose whether you want 150g or 40g of absolute awesomeness!!!

What is Jerk Seasoning/Rub?
Little Brixton Jerk Rub is a dry rub made.  Bring any dish to life with just a sprinkle of this rub. Jerk is a style of cooking native to Jamaica. It refers to the way that a meat or vegetable is seasoned and cooked.  The typical cooking style uses either a wet marinade or a dry rub that includes at least pimento (all spice) and scotch bonnet peppers (or habanero chilli).
What can I use it for?
Think of the rub like fancy salt and pepper.  Rub on a piece of steak or season up some chicken wings.   Add a dash to a veggie dish. Traditionally Jerk Marinade is used as a dry rub to season chicken, pork and fish, but you can marinade any meat you like with it.
What else do I need to know?
Upgrade to a Little Brixton Hot pack for extra heat!

Other products in the range include:
Little Brixton Jerk Marinade (Mild)
Little Brixton Rum BBQ Sauce
Little Brixton Jerk Mustard
Ingredients
Garlic Powder, Cayenne Pepper, Raw Sugar, Salt, Thyme, Dried Thyme, All Spice, Cloves, Herbs and Spices
What is the Jerk Rub story?
July 1972, Hayter Road, time to fire up the barrel-bbq while the sun is out.  The chicken covered with the jerk rub, coals burning, rum punch flowing and reggae music sounding sweet. Everyone dancing having a good time, nice vibes.  Time for some juicy and spicy Jerk chicken!