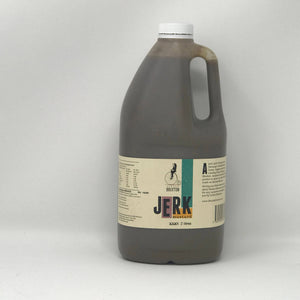 Need to feed an army or just totally addicted to this sauce.  Our 2L Jerk Mustard bottle is the equivalent of 8 our jars!
WHAT IS JERK MUSTARD?
A totally unique award winning Mustard. Little Brixton's Jerk Mustard gives you American style mustard with a fiery hit of habanero chilli!  Our Mustard was voted the best condiment at the 2016 Herb and Chilli Festival. 
WHAT CAN I USE IT FOR?
Literally everything.  Use a sauce for burgers, sandwiches and wraps.  Add to your stir-fry or salad dressing or mix with mayonnaise for an easy dipping sauce. 
WHAT ELSE DO I NEED TO KNOW?
Other products in the 2L range include:
Little Brixton Jerk Marinade
Little Brixton Hot Jerk Marinade
Little Brixton Rum BBQ Sauce
INGREDIENTS
Mustard, Apple Cider Vinegar, Sugar, All Spice, chilli, non-gluten soy sauce