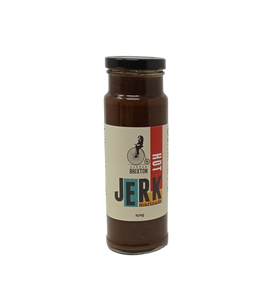 What is Hot Jerk Marinade?
Little Brixton Hot Jerk marinade is for those of you who really want to spice up their meals with a Jamaican Jerk marinade that hits the spot! Jerk is a style of cooking native to Jamaica. It refers to the way that a meat or vegetable is seasoned and cooked.  The typical cooking style uses either a wet marinade or a dry rub that includes at least pimento (all spice) and scotch bonnet peppers (or habanero chilli).
What can I use it for?
Traditionally Jerk Marinade is used as a marinade for chicken, pork and fish, but you can marinade any meat you like with it.
We recommend to try our Jamaican Jerk Tacos
Check out our recipes for inspiration.
What else do I need to know?
Upgrade to our 3 bottle Pack and save
Try our Ultimate BBQ Pack (Jamaican style) to try the whole range!

Like it hot? Our Hot Pack is for you!
Other products in the range include:
Little Brixton Jerk Marinade (Mild)
Little Brixton Rum BBQ Sauce
Little Brixton Jerk Mustard
Ingredients
Spring onion, Lime Juice, Chilli, Molasses, Salt, Brown Sugar, Vinegar, Oil, Herbs and Spices 
What is the Hot Jerk Marinade story?
September 1970, a sunny autumn afternoon, strolling down Electric Avenue through Brixton Market. Reggae music pumping out of the stalls, ingredients in hand, it is time to get home and light the BBQ for some hot and spicy jerk chicken. Little Brixton Hot Jerk Marinade giving you that sweet and fiery jerk heat for any occasion.