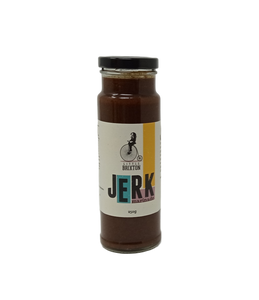 What is Jerk Marinade?
Jerk is a style of cooking native to Jamaica. It refers to the way that a meat or vegetable is seasoned and cooked.  The typical cooking style uses either a wet marinade or a dry rub that includes at least pimento (all spice) and scotch bonnet peppers (or habanero chilli).   If you want to bring a spot of Jamaican-inspired cooking into your kitchen, our Jerk Marinade does the work for you.
What can I use it for?
Our Jerk marinade will make any piece of meat taste delicious.  Simply marinade your meat in the Jerk marinade for ideally 4 hours if you have time (the longer you marinade, the deeper the flavour will go) and cook!  An easy meal would be to marinade some skinless chicken thighs and cook in the oven and serve with rice and salad. 
We recommend to try our Jerk Chicken recipe
Checkout our recipes section for some inspiration!

What is the Jerk Marinade story?
July 1967 Hayter Road, Brixton, a warm summer's day, everyone out in the back garden the sweet sound of Reggae music is loud and the rum punch is flowing! The barbecue is hot and all that is now needed is that sweet, smokey and fiery flavour from Jamaica brought to you by Little Brixton
Ingredients:
Thyme, lime, garlic, ginger, gluten free soy sauce, tomato paste, spring onion, habanero chilli, all-spice, brown sugar, molasses, salt, olive oil, vinegar
What else do I need to know?
Upgrade your order and save!